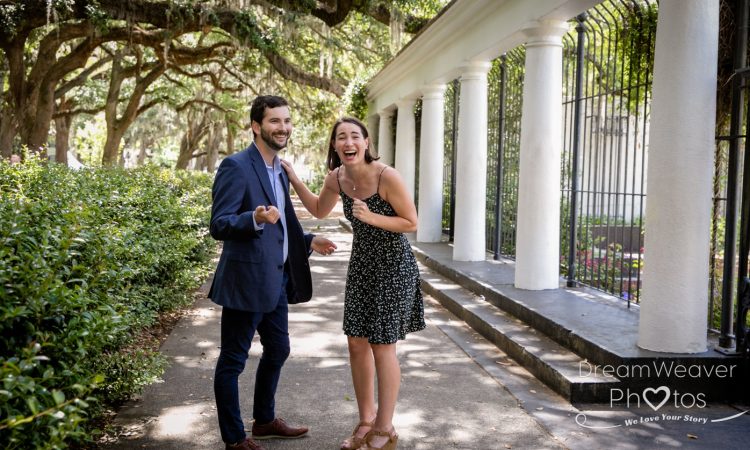 Bridgid and Matt – surprise proposal in Fragrant Garden
The story behind this surprise proposal in Savannah, GA:
The most important decision you'll ever make in your life is who you marry! Sorry, ladies and guys – these two are taken! When Matt asked Bridgid to marry him, he stayed on his knee a long time, telling her all the wonderful reasons why he couldn't imagine spending the rest of his life without her. The first thing Bridgid said (after "YES!") was "oh, you are so kind". What an interesting thing to say. Matt hired a photographer, got the ring, didn't sleep for weeks, paid for some Prosecco and organized this amazing once-in-a-lifetime event so YES (!) he is kind but for her to show such love and appreciation for Matt's efforts was also kind! They are made for each other. You can see the surprise in her eyes (Matt, I swear she was surprised!). You can see the love in his. What a joy they were to photograph. I lost track of time; they were so fun! Plus they did it on the day of the SCAD festival so we had to get a few fun photos of that too! Congrats you guys!
Location: Savannah, GA in the Fragrant Garden area
What: Surprise proposal by Jamie Weaver, Dream Weaver Photos
Thinking of doing a surprise proposal in Savannah? Here is what comes with your package:
All edited high res photos on a link (yes, all! Not some)
We edit them all (Yes, all! Not some)
We allow unlimited downloads to unlimited emails
We will help you every step along the way with our experience & expertise
Check out our 400+ 5 STAR reviews! This is the best investment you will make and you won't regret hiring us.
Add cell phone video for $25
Add professional video for $200
For $600 – you will get 1 hour w/ sparkling wine & glasses