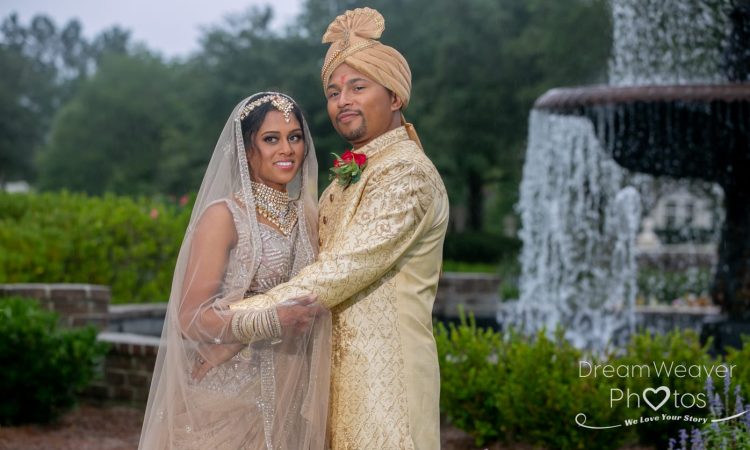 Trust me ! Take a chance – it's your wedding day!
I just have to write this and I am not gonna lie or sugar coat it.  It is easier for me to do what you *think* you want on your wedding day than to actually do what I know you *will really* want when you get the photos.
Let me explain with pictures. Savannah, GA is beautiful!  When couples are planning a wedding, we are all on the same page: We all want gorgeous outside photos with all the trees, fountains, flowers and light, that Savannah has to offer. What changes?  The WEATHER!  It's hot here, it gets cold here, it rains.  You know what doesn't change? The indoors! So let me explain what happened in every single photo below: the weather wasn't 72 degrees. (my perfect temperature).  The first photo literally was taken the day before I posted this article.  Not sure if you can tell, but it's raining.  Lightly.  The beautiful bride said, "I don't want my hair to get wet, we still need to go to the reception."
Let me explain my job.  I work for you. I will do what you want.  Sometimes I am tired, I am melting, and I don't want to get my cameras wet or sweat anymore- but that is NOT why you hired me.  You hired me to say exactly what I said to Alyssa (first picture) "I have an umbrella; I will drive you to the fountain.  I will do all my camera settings in the car while you stay covered.  I will be fast.  I am about to tell you how to pose now so when you get over there, all you got to do is a few poses which you will know ahead of time.  I will do everything in 5 mins. In fact, I will set my timer."
OR like the second photos: the bride was freezing and done with photos.  Her husband was doing exactly what he should be doing – protecting his wife from the wind and telling me it was too cold.  I wanted to throw her veil in the air.  I asked him to give me 30 secs and he needed to hold her close and warm her up.  That's the shot. Done. Also, you can't tell but it was super dark, and I had to carry a light on a light stand on the golf cart.
3rd, 4th, 5th photos: "It's way too hot! Let's go inside!" Oh man do I want to go inside!! But that's not what you get when you hire me.  You will hear me say "Give me 2 mins." and I promise, I will get your favorite shots.
It's not easy for me, either.  Sometimes the sweat is running down my face so much that I cannot see through the lens!  I wipe most of my make up off (no one is looking at me anyway), and I shoot that laugh, that surprised look, that tree that I can only get if we are outside.  Trust your photographer! When the day is over, and you see your amazing outside photos, you'll be happy you did.