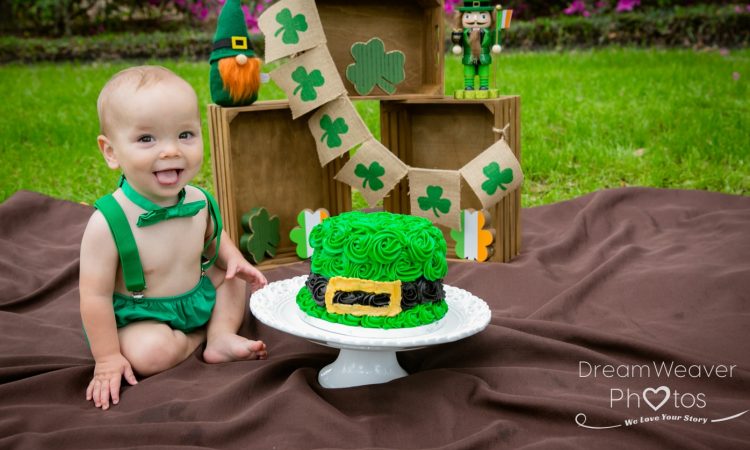 Jeremy's first birthday cake smash at Forsyth Park Savannah Ga – photo shoot by Dream Weaver Photos
What do you need for a cake smash?
Well, first of all, what is a cake smash?
When your "baby" turns that 1 year milestone, you buy a small, fun cake and your little one goes to town!  This experience is actually not as crazy as you'd think it would be because most kids are just curious.  They lightly touch the icing, feeling the texture and looking at their parents as if to say "is this okay?"  In this case. Blake (older brother) wanted to help so badly so we let him show his little brother how to properly smash your hand into the cake.
Eliza & Ivan (mom & dad) wanted to make sure that Jeremy's birthday decor was St Patty's Day themed because Eliza's family always participates in the big parade we have in Savannah on March 17th.
Things to know & bring:
Bring some decor (maybe a 1st birthday candle / or Happy Birthday sign)
You will need your baby to wear a super cute outfit (Jeremy is wearing a green bow tie, suspenders and a green diaper cover)
Buy a cake (of course!) It doesn't have to be a big one, you will have some leftovers!
Bring the family! I am happy to take some family photos while you are all together!
I will help you find a beautiful background in Savannah, Ga (here are some ideas!)
Call or text for an appt: 9124847990